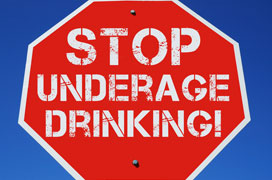 Go to 
https://www.stopalcoholabuse.gov/webinars/default.aspx
 to get information on a new webinar series on underage drinking.  
The Interagency Coordinating Committee on the Prevention of Underage Drinking (ICCPUD) is hosting a series of webinars throughout 2013 on underage drinking. These webinars feature national leaders and experts discussing the extent and nature of the problem, lessons from recent research, and evidence-based strategies for addressing underage drinking.
You are asked to register for each webinar. All webinars are being archived on or through this site for additional viewing after their live presentations.
Upcoming Events
June 26, 2013. To be hosted by the Centers for Disease Control and Prevention
September 2013. To be hosted by the U.S. Department of Education
October 2013. To be hosted by the National Highway Traffic Safety Administration